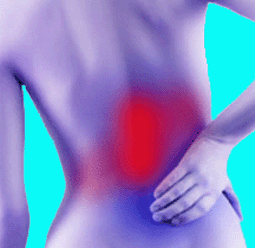 Muscles can often feel sore after exercise or other strenuous activity and starting a workout program can be challenging. Making the time to exercise, creating a balanced routine, and setting goals are hard enough, but add to that the muscle soreness that comes with adapting to that regimen, and it may be difficult to stay on track.
Chances are, you won't be leaping out of bed to get to the gym when it hurts to hold your arm up to brush your teeth.
After participating in some kind of strenuous physical activity, particularly something new to your body, it is common to experience muscle soreness, say experts."Muscles go through quite a bit of physical stress when we exercise," says Rick Sharp, professor of exercise physiology at Iowa State University in Ames."Mild soreness just a natural outcome of any kind of physical activity," he says. "And they're most prevalent in beginning stages of a program."
Even Bodybuilders Get Them
No one is immune to muscle soreness. Exercise neophytes and body builders alike experience delayed onset muscle soreness."Anyone can get cramps or DOMS, from weekend warriors to elite athletes," says Torgan. "The muscle discomfort is simply a symptom of using your muscles and placing stresses on them that are leading to adaptations to make them stronger and better able to perform the task the next time.
"But for the de-conditioned person starting out, this can be intimidating. People starting an exercise program need guidance, Torgan says."The big problem is with people that aren't very fit and go out and try these things; they get all excited to start a new class and the instructors don't tell them that they might get sore," she says."
(This is why inform you guy that's it's coming). To them they might feel very sore, and because they aren't familiar with it, they might worry that they've hurt themselves. Then they won't want to do it again."Letting them know it's OK to be sore may help them work through that first few days without being discouraged.
Although muscle pain can be aggravating and keep you from exercising, the good news is that the more you exercise, the less your muscles will hurt in the long run.
Use these simple tips to alleviate common muscle soreness!
Ease Those Aching Muscles……So what can you do to alleviate the pain?
"Exercise physiologists and athletic trainers have not yet discovered a panacea for DOMS," says Draper, "however, several remedies such as ice, rest, anti­-inflammatory medication, massage, heat, and stretch have been reported as helpful in the process of recovery.""There are all kinds of different little roads that your muscles can take to get stronger."Stretching and flexibility are underrated, says Sharp."People don't stretch enough," he says. "Stretching helps break the cycle," which goes from soreness to muscle spasm to contraction and tightness. You can take it easy in your next workout sessions for a few days while your body adapts, says Torgan. Or try some light exercise such as walking or swimming, she suggests. Keeping the muscle in motion can also provide some relief.
How to Make Sore Muscles Feel Good
"Probably the most important thing is to have a cool­ down phase after your workout," says Draper. Right before finishing or right after, include 10 or so minutes of "easy aerobic work such as jogging or walking followed by stretching.
"At Brigham Young, Draper has been researching the use of heat remedies to treat muscle soreness. In clinical tests, a portable air­ activated heat wrap ­­ in this case a product called Therma Care ­­ applied directly to the skin was beneficial to subjects.
Rest the affected muscles from overly strenuous effort for 24­48 hours after the exercise that caused soreness ­­ especially, if the soreness is due to a weight lifting routine. For this time period, exert not more than around 50% of the level of effort (weight, distance and speed) that caused the muscle groups to be sore. This is the very best way that you can avoid feeling much pain from the soreness.
If you're weight lifting, target different sets of muscles on different days. Give your sore muscles time to rebuild after you have strained and exerted them. Try doing chest one day, legs the next, core the next, back the next, and arm and forearm exercises the final day. Repeat when you have reached the final muscle group installment.
Massage is the best thing to do to your muscles. When you exercise to exhaustion, tiny tears occur in muscle fibers. The body's natural response to these tears is inflammation. Massage helps reduce the amount of cytokines the body produces, which play a role in inflammation.
Massage also seems to increase the amount of mitochondria in your muscle, which enhances the muscles' ability to extract oxygen. Get a massage. Seek out a massage therapist and allow them to work on your sore muscles. Massage therapy is relaxing, meditative, and healing.Massage the muscles yourself. Depending on the location of the soreness, you can try to give yourself a massage. Use a combination of your thumbs, knuckles and palms to work deep into the muscle tissue.
Stretch the muscles out.  This will also help to get the lactic acid out of your muscles. Waiting a few hours after a strenuous workout before stretching is not the best. Stretch after activity that caused the soreness to prevent becoming stiff.
Ice the muscle indirectly.  Doctors recommend icing the muscle or muscle groups immediately after activity to reduce inflammation and provide more lasting relief. When icing a muscle or muscle group, it's best to wrap an ice pack in some sort of buffer – light cloth works well – before applying the ice.If you're an athlete, consider investing in a five­gallon bucket. For soreness of the arms (like from baseball practice) a five­gallon bucket filled with ice water will allow you to ice the whole arm at one time. This method will also work for feet.Use plastic wrap to secure ice to limbs or the body. If you need to be moving around (cooking, cleaning, etc.) while using ice, plastic wrap can help secure ice onto a muscle while you move.
Apply heat.  After the first day of soreness, heat can be used to help blood flow to the muscle. This will help rebuilding take place and provide some soothing relief.Take a shower. Allow warm water to hit the muscles, relaxing them. Alternate with warm and cool water for a homemade hydrotherapy treatment.
Take pain medications such as NSAIDs. NSAIDs, or nonsteroidal anti-­inflammatory drugs, come in various forms. Ibuprofen (Advil, Motrin), naproxen (Aleve), or aspirin are all commonly­used NSAIDs.If you are under the age of 18, or if the person you're caring for is under the age of 18, avoid use of aspirin. Aspirin in children under 18 has been linked with a dangerous disease called Reye's syndrome, which results in acute brain damage.Try to avoid using NSAIDs on a regular basis. NSAIDs can interfere with the muscle's ability to repair itself if taken regularly. It's best to find more natural ways of treating muscle pain if you can.
Plan a proper diet including keeping hydrated.  If your muscles are sore from intense activities such as weightlifting, your muscles are rebuilding themselves, needing water and lots of protein. Aim to take in 1 gram of protein per day for every pound of lean body mass you have.For example, a 160 lb. man at 20% body fat would want to take in approximately 130 grams of protein per day. This will speed up recovery times considerably, as well as prevent muscle loss from poor nutrition. Take Protein 15 to 45 minutes after workout for best results.
Drink lots of water while you work out and throughout the day. Your muscles need water to function at their peak, and your body needs water to repair your muscles. Don't forget to drink water.
 Avoid soreness before it happens. Consider taking vitamins, antioxidants, and other supplements. This will help prepare your body for a more strenuous version of the exercise.Vitamin C and antioxidants, in particular, have been effective in helping to prevent muscle soreness.
Blueberries, artichokes, and green tea are antioxidant­rich, while chili peppers, guavas, and citrus fruits are all high in vitamin C. Look into supplementing with branched­chain amino acids (bcaa: L­leucine, L­isoleucine, L­valine) and others before exercise ­­ such as l­glutamine, l­arginine, betaine, and taurine ­­ may help prepare to clear waste products from your muscles. This also may promote recovery and protein­turnover, rebuilding muscle.
 If you're working out, ease into your workout not by stretching, but by warming up with a light simulation, using the targeted muscles in lighter exercise than you are going to be performing inthe following minutes.
Tips
Stretch while taking a shower. Use water which is slightly hotter than what you are used to. This increases blood flow around the muscle fibers with micro­tears.
If you are massaging a sore muscle, don't focus on the middle of the sore muscle. Focus more on the connections at each end. This will help the muscle to relax more quickly. If the muscles are along the back and neck, see a massage therapist. These areas are dangerous to massage without proper training.
The bottom line is to not to quit nor take off. You will not always be at your 100% but as long as you're there "to always be" (committed) then you're on your way to progressions and I'm here to help you through that. When you're really sore, just focus on more going lighter then skipping it all together. Continue your training because this will pass. Then before you know it, you will be on my team of the "No Pain No Gain" team. No isn't that motivating!?
Love ya!
Renita